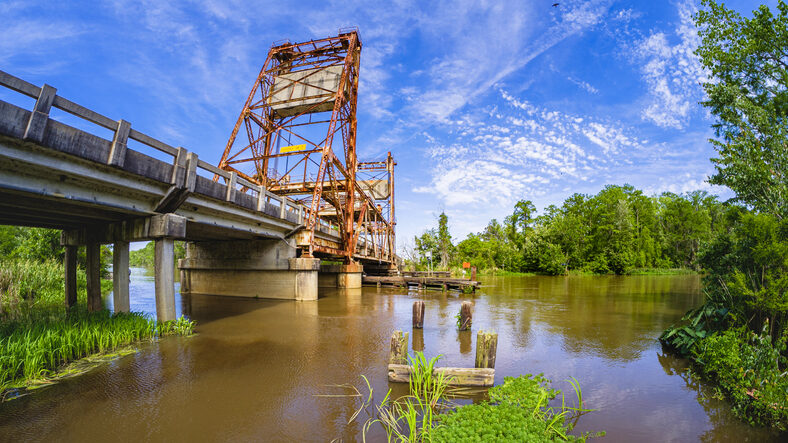 CTF Highlights FROM THE FIELD: SUMMER 2023

---
August 21, 2023
With the federal government set to distribute more than $42 billion in Broadband Equity, Access, and Deployment (BEAD) funding, it is more important than ever that we eliminate the obstacles that still stand in the way of swift broadband deployment, including pole access issues.
Connect the Future (CTF) and our supporters know that we will only be able to maximize these investments and achieve full connectivity across America if deployment barriers are removed.
National
CTF applauded the National Telecommunications and Information Administration's (NTIA) announcement of state allocations for more than $42 billion in Broadband Equity, Access, and Deployment (BEAD) funding. Read the full statement here.
CTF applauded Senator Mike Lee's (R-Utah) letter to the Justice Department, warning of potentially anticompetitive behavior by certain electric distributors that own utility poles and purchase power from the Tennessee Valley Authority (TVA).


The International Center for Law & Economics' (ICLE) Ben Sperry, Geoffrey Manne, and Kristian Stout wrote in an issue brief: "Senator Lee's letter to the DOJ highlights issues that are extremely important to closing the digital divide. Broadband deployment could be harmed as a result of the practices by the TVA and the [local power companies] LPCs." Read the full issue brief here and share CTF's summary here.


Former FCC Commissioner Mike O'Rielly posted on how federal legislation could address LPC pole attachment problems if the TVA won't curb their behavior themselves. Share the thread here.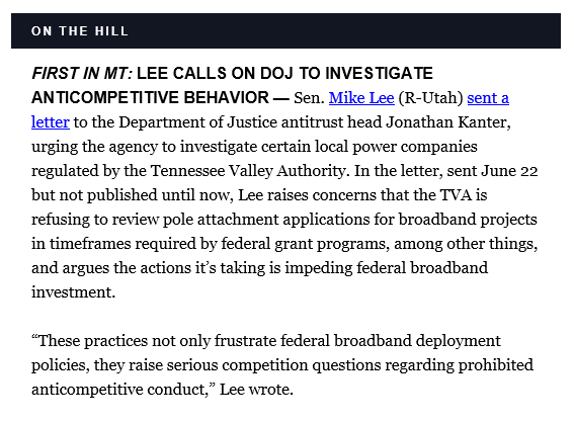 At a recent House Transportation and Infrastructure Committee hearing with TVA CEO Jeff Lyash, North Carolina Congressman Chuck Edwards highlighted the important role that utility poles play in expanding connectivity and bringing quality internet service access to residents of TVA areas. Lyash promised that TVA is "working with local power companies to make sure that they provide [broadband providers] timely and effective access to utility poles."
States
Florida
Florida is set to receive $1.17 billion in funding from BEAD. That ranks the Sunshine State 13th among the states in total funding received through the landmark broadband expansion program.
In July, Florida Gov. Ron DeSantis announced $247 million in broadband funding through the Bipartisan Infrastructure Program. More than 59,000 businesses, homes, farms, hospitals, and libraries will be able to get connected to high-speed internet. The program previously awarded $226 million to 53 counties, and more funding will be made available throughout the year for qualifying homes and businesses. Learn more here.
North Carolina
North Carolina is set to receive $1.53 billion in funding through the BEAD program, placing it in the top five states. Learn more about the BEAD program's impact in North Carolina here.
South Carolina
South Carolina will receive $551 million in funding through the BEAD program. This funding will ensure that South Carolina stays on track to achieve its 100% affordable connectivity goal by 2026. Read more about South Carolina's plans to bridge the digital divide here.
Clemson University and the South Carolina Broadband Office announced a partnership to help gather data about unserved homes and businesses. See the survey and learn more about the partnership here.
Kentucky
Kentucky Gov. Andy Beshear announced that the state would receive more than $1 billion in funding for high-speed internet from the BEAD program. More than 258,000 unserved locations stand to benefit from these grants. "Thanks to the support from the federal government, we are going to help connect every family, community and business to high-speed internet," said Gov. Beshear. Read more about the BEAD program in Kentucky here.
Texas
Texas will receive $3.3 billion in federal funding – the most of any state – from the BEAD program. State lawmakers have already pledged $1.5 billion to assist in broadband expansion. States began submitting proposals on July 1 and the NTIA will accept proposals through December 27. Learn more about the state of broadband access in Texas here.
Texas also unlocked $180 million for the Bringing Online Opportunities to Texas (BOOT) program, funded through the Capital Projects Fund. There are BOOT project proposals in 62 counties. Learn more about the BOOT program here.
Missouri
Missouri was awarded $1.7 billion in funds from the BEAD Program – the third highest amount of all 50 states. According to BJ Tanksley, director of the Missouri Office of Broadband Development, population density and difficult terrain contribute to almost 400,000 Missouri homes being without broadband access. Read more about the historic investment here.
---