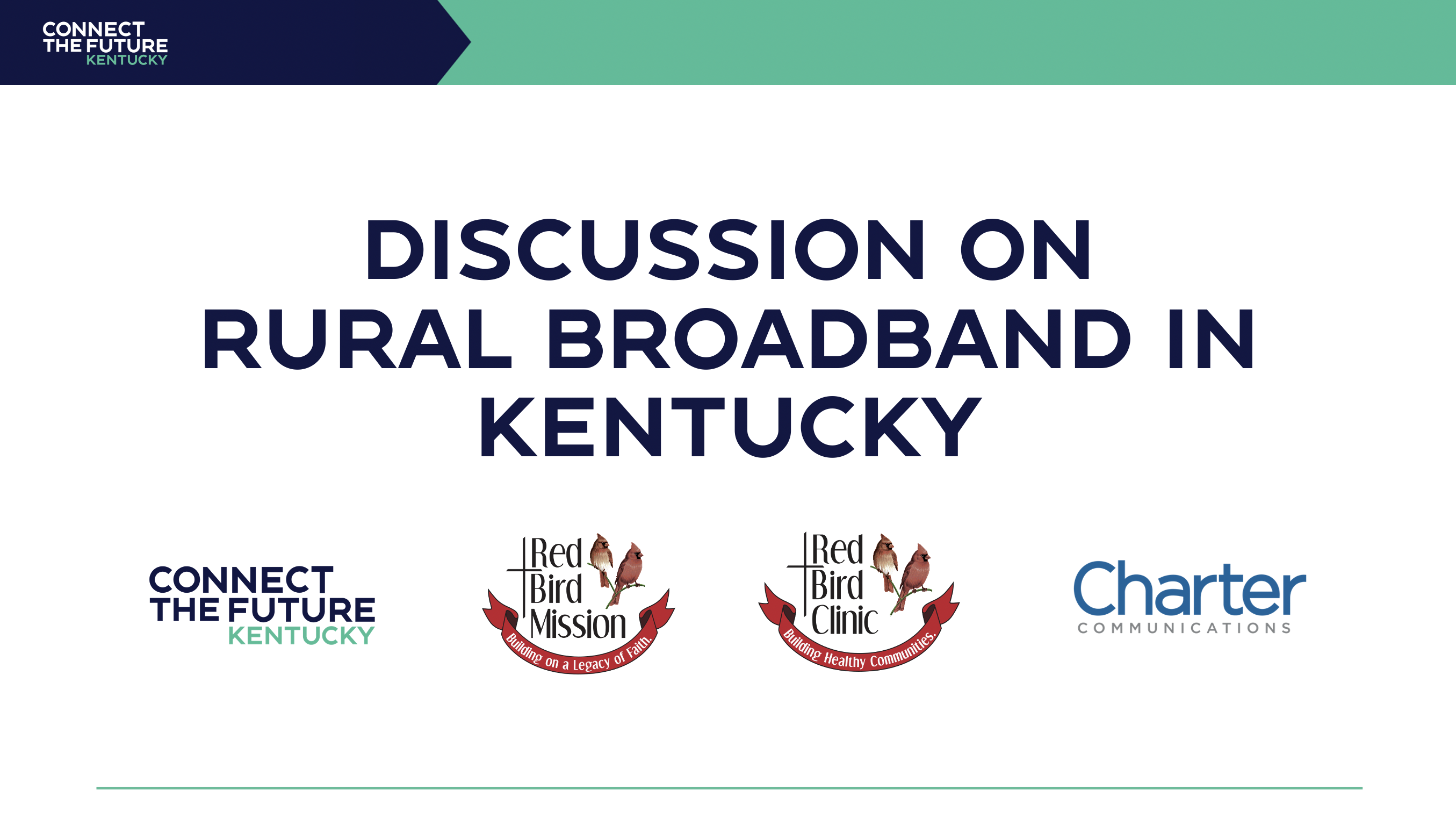 CTF Joins Discussion on Rural Broadband Expansion Efforts in Kentucky with State Senate President Robert Stivers and Panelists from Red Bird Mission & Charter Communications

---
April 21, 2021
Public officials and private companies understand the importance of increasing broadband accessibility across Kentucky. Just last year, the Kentucky General Assembly passed House Bill 362 to assist broadband deployment, and the Federal Communications Commission (FCC) recently announced through its Rural Digital Opportunity Fund (RDOF) that 11 Kentucky broadband providers have been awarded nearly $149 million dollars to build out broadband infrastructure to nearly 99,000 unserved locations across the Commonwealth. These initiatives will undoubtedly help those in Kentucky who for too long have remained on the wrong side of the digital divide.
At a recent virtual discussion hosted by Connect the Future (CTF) Kentucky and Red Bird Mission, Kentucky Senate President Robert Stivers joined CTF's Zach Cikanek, Charter Vice President of Government Affairs & Regulatory Strategies Jason Keller, and Red Bird Mission Executive Director Kari Collins to discuss the critical role that broadband plays in rural Kentucky's success, the resources secured to bridge the digital divide, and how the Commonwealth can ensure that unserved Kentucky families receive broadband access as quickly as possible moving forward, without delay.
Here are three key takeaways from the conversation:
Takeaway #1: The Kentucky General Assembly has taken significant steps to expand broadband access to "last-mile" rural areas of Kentucky.
The panelists agreed upon the critical need to expand broadband access to rural, last-mile regions of Kentucky, so that these communities can also take advantage of the educational, economic, and social opportunities that the internet brings. Senate President Stivers noted that the legislature recently approved $300 million in rural broadband funding, which he hopes will be further matched by private broadband providers in the state. Notably, this money is in addition to the $149 million that the FCC's RDOF auction awarded to broadband providers to deploy broadband infrastructure throughout Kentucky.
Takeaway #2: The utility pole attachments process remains a primary barrier to quickly expanding broadband infrastructure to last-mile areas.
Current regulations surrounding pole attachments are complex, costly, and can cause significant delays to providers deploying broadband infrastructure. Fortunately, the Kentucky Public Service Commission (PSC) is currently considering changes to streamline pole attachment guidelines. Charter's Jason Keller provided concrete steps that can be taken to help expedite broadband deployment to those unserved areas that need it most:
Ensure fair and predictable pole replacement costs so that both broadband companies and utility pole owners each pay their fair share.
Allow for techniques that speed up deployment, such as the use of extension arms, boxing techniques and temporary attachments like other states have done for more timely and efficient broadband deployment.
Implement Louisville-style "one-touch" make ready, which safely and quickly allows new attachers to perform utility make-ready work themselves, if existing attachers chose not to do the work within 30-days.
Provide faster permitting and dispute resolution timeframes that includes the timely completion of responses to pole access requests (no more than 10 business days from the date of the application), make-ready work (no more than 30 days), and pole access disputes (no more than 90 days).
Establish consistent overlashing opportunities, or the practice of physically tying new network to the wires that already exist on a utility pole. This allows broadband providers to quickly and efficiently expand their service capacity.
Takeaway #3: Broadband funding for rural Kentucky must focus first on access, then on adoption.
The panelists also agreed that first and foremost, the deployment of additional broadband infrastructure is needed to expand access and bridge the digital divide specifically in rural Kentucky. As Charter's Jason Keller and CTF's Zach Cikanek stated, once the broadband infrastructure actually exists, then we must turn our attention to making sure that each additional dollar of broadband funding is focused on adoption and guaranteeing that no rural Kentuckian is kept from accessing the internet ecosystem because of an inability to afford service or equipment, or a lack of digital literacy.
Kentucky currently ranks 40th in the country for broadband access, but with new funding and updated regulations around critical broadband infrastructure like pole attachments, Kentucky has a significant opportunity to bridge its digital divide once and for all.
---