---
Survey Underscores Strong, Bipartisan Public Support for Policies to Expand Kentucky Rural Broadband Access

---
January 19, 2021
---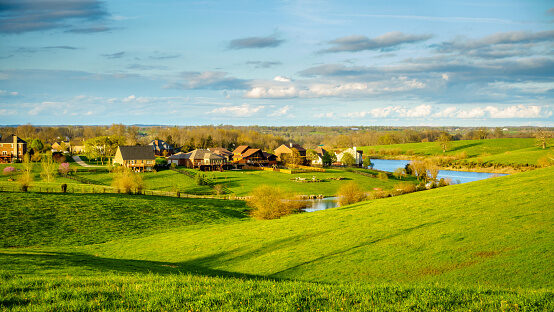 ---
FOR IMMEDIATE RELEASE
January 19, 2021
Contact: [email protected]
WASHINGTON, DC (January 19, 2021) – Connect the Future Kentucky (CTF) today released the results of a new survey examining public opinion on efforts to accelerate broadband deployment to underserved communities in the Commonwealth. The poll, conducted in partnership by Hart Research and Public Opinion Strategies, revealed an overwhelming majority (84%) of Kentuckians support action by state policymakers to connect more rural households to reliable, high-speed internet. The survey also revealed strong, bipartisan support for key regulatory solutions currently under review by the Kentucky Public Service Commission (PSC).
"Access to high-speed Internet is important to 95 percent of Kentucky voters, yet 60 percent still report that access is a problem in their local community," said pollsters Fred Yang of Hart Research and Robert Blizzard of Public Opinion Strategies. "The survey results clearly demonstrate that Kentuckians – regardless of geography or political affiliation – would like to see state leaders take action to make broadband access available in more communities."
Without robust broadband infrastructure, rural homes, schools and businesses lack the connectivity necessary for success. Strong majorities of rural voters report that a lack of internet access at home impairs their ability to work remotely from home (77%), access quality educational opportunities (67%), use telehealth (63%), find new job opportunities, or gain new career skills (60%).
"Telehealth has been a lifeline for rural communities during the pandemic, but many in rural or remote communities remain without access to these options," said Dr. Patricia Swiney, former President of the Kentucky Academy of Family Physicians. "Limited internet access also impacts rural health providers, who rely on the internet to serve their patients. Our state leaders must work quickly to ensure that Kentucky families and providers receive the connectivity they need."
The Kentucky PSC has launched a proceeding aimed at developing clear and consistent rules governing the ability of broadband providers to attach cables to utility poles. Support for each of the four proposals tested, which would help providers extend broadband service into rural areas of Kentucky, ranged from 78% to 88%. They include:
Establishing standards for predictable and fair pole replacement costs, so that broadband providers do not pay a burdensome and disproportionate share of costs;
Allowing construction and installation techniques that can reduce costs and speed deployment;
Updating regulations to establish uniform rules for broadband providers seeking to attach new equipment to utility poles; and,
Setting clear timelines to avoid costly delays or prolonged disputes.
"We applaud the Commission for taking up this important opportunity to address the barriers that often limit access to utility poles, which represent the backbone of our nation's broadband infrastructure, especially in rural areas," said Jason Keller, Board Chairman of the Kentucky Broadband & Cable Association. "The outcome of the Kentucky PSC proceeding could positively shape the future of broadband deployment, benefitting businesses and families across the entire state. The survey shows that Kentuckians recognize the need for action and are ready to rally behind policymakers who are taking the lead on this issue."
Click here for more information on the Kentucky rural broadband poll results.
---